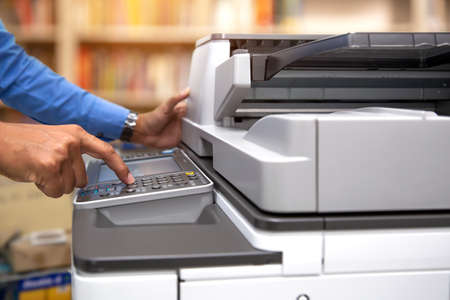 Choosing the right printer can be a difficult task, but finding a brand that you can trust makes things easier. Of the dozens of printers that were reviewed by critics and customers, Canon stands out as a brand that offers excellent printing and solid value across numerous different products.
We like Canon printers for numerous reasons, not least of which is because they tend to offer some of the best photo printing in the market, better-than-average text printing, and excellent scan quality. That is why numerous Canon models are on the list of the best printers overall.
There are Canon printers that are perfect for small businesses, but there are also those that are made for high-volume tasks, like printing 300k every month, here are some of them:
Canon Pixma TS9120
The Canon Pixma TS9120 is a compact, all-in-one printer that is well-suited to home duties. This mid-range inkjet printer offers not only great document printing but also delivers some of the best and fastest printing that we have seen, along with the fastest-in-category copying.
Estimated ink costs are average, but that is the only thing average about this little powerhouse. And a printing cost of 8 cents per page for black-and-white and 20 cents per page for color, the printer's 6-color ink process offers amazing photo printing alongside the usual document printing.
Fast printing and scanning speed is one of its amazing features. It is also fast at making colored copies. It has six individual ink cartridges, a large 5-inch color touch screen, and it can print labels onto coated CD/DVD discs.
The Pixma TS9120 offers amazing value for use both at the office or home, delivering fast speeds across the board without compromising image quality. The printer is equally adept at printing, scanning, copying and the enormous color touch screen makes stand-alone operation easy.
If you want to have the best inkjet, the Canon Pixma TS9120 is the easy pick, this is one of the best in the market and is included in the Editor's Choice of most websites.
Canon Pixma MG3620
If you want a more budget-friendly printer, the Canon Pixma MG3620 offers a better-than-average, all-in-one printer for less than a hundred bucks. And even for a value-priced model, this device delivers high-quality prints.
The overall features are basic, though it is appreciated that they included an automatic duplexing feature. The compact design is small enough to fit on mist desks and the lightweight makes it easy to move from one room to another. The only feature that is missed was the built-in display, but button-based controls still do the trick.
With only two ink cartridges, one black and the other tri-color, the cost of prints is a bit above average, but for the user who only printers now and then, it offers amazing print quality without a huge investment. The Pixma MG3620 also offers faster-than-average performance for printing, photo printing, scanning, with better image quality than most other printers.
Canon Maxify MB5430
When you need more than a home printer can handle, the Canon Maxify MB5420 offers a lot of business-worthy features, and it can handle high-volume tasks, making it a great printer and a solid bargain.
This workhorse office printer delivers impressive performance, with fast printing at almost a laser-printer quality. Two-sided printing is equally fast and impressive, and a built-in document feeder makes two-sided scanning and copying easy. The Maxify MB5420 handles more than just text documents, it produces a sharp, detailed graphics and photo printing with fine detail and subtle colors, all with aplomb.
With two paper trays, it is well-suited to handle large projects, and printing costs are more than reasonable, especially when using high-capacity cartridges. For a reasonably priced, small office printer, the Canon Maxify MB5420 has a generous feature set and excellent performance across the board.
If you need a copier for high-volume printing, you can contact our local leasing company. When you need a copier in Des Moines, you can contact Des Moines at (515) 512-4288. They can assist you with copier lease in Des Moines, copier rental in Des Moines, and copier repair in Des Moines.