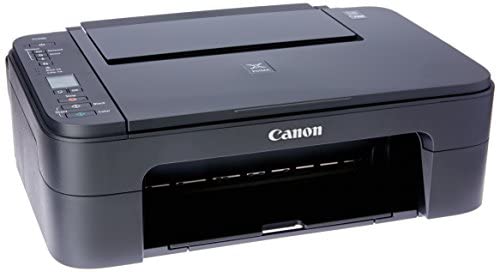 Canon is one of the most trusted printer brands in the whole world. Canon particularly dominates the medium and small-sized printer markets. A few years back, Canon released a revolutionary printer for home use. This device is none other than the PIXMA HOME TS3160 Inkjet Multi-function printer. Now, this new printer from Canon that is considered entry-level, comes fully loaded with an array of features that make it suitable for home use. 
Being a longstanding player in the printing realm, Canon took the time to understand the printing needs of a typical home. The engineers resolved to make this printer to meet these needs.
So what is underneath the Canon PIXMA HOME TS3160? The TS3160 performs all three basic office operations without a glitch. It can copy, print and scan documents. This is actually a massive plus especially if you are buying it to use in your small home office or in your small business. With this device, you won't have to buy a separate printer or scanner since the device does it all for you.
Despite being a low-cost printer, the Canon PIXMA HOME TS3160 performs exemplary well, especially when it comes to colored printing. There is hardly any better photo printer in its price range. To begin with, this device can print borderless, colored photos of up to 5×7 inches. Besides, Canon PIXMA HOME TS3160 reaches high printing speeds of up to 7.7ipm or impressions per minute for black and white prints and 4.0ipm for colored prints. Printing speeds are measured in impressions per minute or IPMS.
This printing speed shows the number of dots per inch inscribed on paper based on a fixed resolution. The manufacturer also enhanced this printer to get ultra-clear photo prints. The home printer has a maximum printing resolution of 4800 x 1200 dpi, meaning that you can use it for making your own home collages and portraits.
If you are the type of person that reveres new technology, this is one of the most affordable printers that can't disappoint you. Canon integrated this device with a number of convenient features, which include the nifty wireless printing technology. Also, Canon PIXMA HOME TS3160 is compatible with numerous mobile printing applications, among them, Canon's own PIXMA Cloud Print application and Apple Air Print as well as Google Cloud Print application. In addition, Canon PIXMA HOME TS3160 has an automatic power-off feature, which saves you a massive amount of money. You really do not have to worry whenever you forget to switch the printer off. It will do that automatically thus saving energy.
Being one of the latest Canon printers in its price category, PIXMA HOME TS3160 is veneered in a tasteful and beautiful glossy finishing. What is particularly liked by the public is the slammed edges that give it a modern look. Also, Canon PIXMA HOME TS3160 comes with a 1.5 inch LCD screen to ease the operations. Furthermore, the buttons are well arranged not to mention ergonomically shaped. Canon built the PIXMA HOME TS3160 in two predominant colors, white and black. All the same, white looks are more appealing for a home printer.
In terms of desk space, Canon PIXMA HOME TS3160 has a minimalist footprint hence ideal for small office. The device measures 43.5 x 31.6 x 14.5 centimeters in W X D X H. Thus it will fit perfectly on any 2 feet desk and leave ample space for a computer and a file rack.
If you wish to have this printer, you can contact your local leasing company. They can assist you with payment details and they can discuss the printer's features more. For example, if you need a copier in Des Moines, you can contact Des Moines at (515) 512-4288. They can assist you with copier repair in Des Moines, copier rental in Des Moines, and copier lease in Des Moines.